Inktober 2017 – Day 03 – Chikorita Falls
on
October 4, 2017
at
5:26 am
If you go up against Falkner with a grass starter, a spider and an under leveled ball of fluff, you are going to get schooled.
I barely made it through with a poison sting from Spinarak at the end. Still I couldn't save Chikorita from fainting during the fight.
This isn't a Nuzlocke or anything so …. nothing really changes. I just felt bad she fainted. We should be facing Bugsy soon, not sure things will go any better. At least the ball-o-fluff is a full grown Ferret now, and Chikorita is now a Bayleaf.
I thought it might be nice to show the just ink version of the picture since this is Inktober and all. Check it out after the break.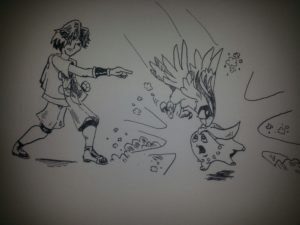 I need to take better photos, that is really dark around the edges.